Pirates Of The Northsea
Scheveningen , The Netherlands
Closed now
More about
Pirates Of The Northsea
In the Pirates of the Northsea you go on a mission to recover the bracelet stolen by Captain Blackbeard. This is the most wanted bracelet of the infamous female pirate Anne Bonny. Unfortunately, you were caught during the mission and ended up in the prison of the ship. Now it is important that you escape, find the bracelet and find a route away off the ship.
Will you help find the bracelet or will you become shark food?
Prices Escape Room with Corona restrictions:
• 2 persons €70,-
• 3 persons €90,-
• 4 persons €100,-
• 5 to 8 persons €140 (2 rooms)
• 9 to 12 people €140 (3 rooms)
---
Properties
Pregnant friendly
No wheelchair access
Epilepsy risk
NL, EN
Toilet available
PIN-payment possible
Free parking
Food available
Drinks available
Escapetalk.nl statistics
Based on escapetalk.nl visitors
Calculate costs
No right may be derived from the prices mentioned on this website since they can be changed at any given moment.
10

reviews

The total score of a review doesn't have to be the average of your subscores. Sometimes a room feels like it should deserve a higher (or lower) rating than the exact sum of its parts.

Write a review
A Pirate's Life For Me
Beetje vreemde ontvangst, vooral als er al 10 gillende kinderen staan en je moet bellen..
De kamer zelf is top qua sfeer en muziek. Wel veel loze afleidende dingen en wij misten soms echt de logica. De host gaf soms onnodige tips en droeg niet mee aan de beleving. Snelste kamer ooit voor ons (kwartier over!), maar al met al wel leuke kamer.
---
Ambiance: 8.0
Game experience: 6.0
Service: 5.0
---
Played in December 2022
Played with 3 persons
Escaped: Yes 46:37 min
---
Spelbegeleider
Slechte service
Mist logica
---
Leuk idee, maar de ervaring viel zwaar tegen.
De escape room ziet er leuk uit maar het was onprofessioneel, de dingen werkte niet en als er een kaste of iets anders open ging dan hoorde je dat niet. Ook gaf de instructeur tijdens het spel zoveel tips dat het bijna een gesprek werd waardoor we niet de kans kregen om de puzzels gewoon zelf te kunnen uitvogelen.
---
Ambiance: 5.0
Game experience: 2.0
Service: 3.0
---
Played in November 2022
Played with 7 persons
Escaped: Yes
Recordtijd, maar niet helemaal zoals het hoort
#95 Ondanks dat het zo dichtbij is waren we nog nooit bij Unlock in Scheveningen geweest. We hebben deze kamer relatief last minute geboekt om weer een avondje lekker te kunnen puzzelen met z'n tweeën en daar bleek deze kamer zeer geschikt voor! De ontvangst is wat typisch doordat je in een wachtruimte komt waar je door te bellen laat weten dat je aanwezig bent en daarna wordt opgehaald om op het achterterrein in een kelder de kamer te gaan spelen. Onze host was vriendelijk, maar wat onhandig doordat hij escape ervaringen wilde delen terwijl wij tegelijkertijd de kamer al in mochten lopen en na het spelen er niet meer aan dacht.

Van de aankleding hebben zie hier echt wat gemaakt, waardoor je je onderin een schip waant en ze hebben op een goede manier gebruik gemaakt van de verlichting en de muziek uit Pirates of the Caribbean. We begonnen razendsnel en zagen al snel de ingrediënten voor volgende puzzels. Soms zagen we het niet direct, maar er zat een goede logica in de puzzels. De kamer zit leuk in elkaar met afwisselende puzzels die allemaal in thema zijn uitgevoerd. Wel houd de afwerking hier en daar wat te wensen over en we kregen de indruk dat deze kamer zich naast de techniekruimte van de andere kamers bevond waardoor we geregeld afgeleid werden door mechanische geluiden en de indruk kregen dat er ergens iets gebeurde waar we mogelijk iets mee moesten.

Na iets meer dan een half uur stonden we met een recordtijd en vol verbazing weer buiten! Bij het napraten bij een strandtent kwamen we tot de conclusie dat we verschillende elementen in de kamer uiteindelijk niet gebruikt hadden, waardoor we toch nog even een mailtje hebben gestuurd aan de locatie. Wat bleek, de kamer was niet helemaal goed gereset waardoor sommige puzzels niet reageerden zoals het hoorde en we waarschijnlijk inderdaad wat over hebben geslagen. Hiervoor zijn netjes excuses aangeboden en zijn we gecompenseerd.

We hebben lekker gepuzzeld met twee personen in Scheveningen, een grotere groep zou ik voor ervaren spelers hier ook niet aanraden. Ga er niet met te hoge verwachtingen heen, maar je kunt hier voor een mooie prijs leuk puzzelen. Zeker als je bedenkt dat de kamer eigenlijk nog meer puzzels bevatte! De aankleding en sfeer zijn leuk, de puzzels afwisselend en ook nog met best wat technische elementen voor het piratentijdperk...

Enige feedback die ik nog wil geven is dat het geluid bij het filmfragment onverstaanbaar was, dit terwijl de muziek en spelleiding wel te verstaan was.
---
Ambiance: 7.0
Game experience: 7.0
Service: 8.5
---
---
Sfeer
Afwisselende puzzels
Puzzels in thema
Prijs
Service naderhand
Niet goed gereset
Filmfragment niet te verstaan
Geluid van techniek
Afwerking
---
Prima vermaakt
Leuke kamer met een hoop puzzels . Kamer is misschien wel iets te donker , beetje meer licht zou prettig zijn .
---
Ambiance: 7.5
Game experience: 7.5
Service: 7.0
---
Played in June 2022
Played with 4 persons
Escaped: No
Alle hens aan dek
Leuke mooie thema kamer! Ontvangen een leuke spontane host die heel lollig in zijn piratenrol wist te blijven🏴‍☠️ Je waant je direct in in piratenschip en al snel vind je je weg in de vele verschillende en uitdagende puzzels. Sommige zo voor de hand liggend maar juist daardoor niet snel door hebben😅....Onze zwakte. Sommige puzzels reageren na t oplossen in de schaduw en gaf ons soms n wat verward gevoel of we t nu wel of niet hadden opgelost maar uiteindelijk kwamen we er wel achter😁 Enige echte minpuntje vonden wij slecht verlichte ruimte omdat je hierdoor echt moeite had dingen te lezen die nogal klein waren...koste tijd en een lampje of iets was hier heel welkom geweest😅 Verder Absoluut een aanrader, niet verschrikkelijk moeilijk en erg mooie puzzels en aankleding.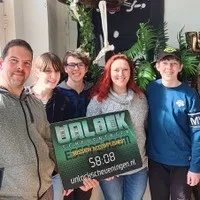 ---
Ambiance: 8.5
Game experience: 8.0
Service: 7.5
---
---
Sfeer
Puzzels
Origineel
Beleving
Diversiteit
Goede begeleiding
---
Prima, maar wat chaotisch
De start was erg grappig, je werd meteen meegenomen in het verhaal op deze manier.
De kamer ziet er prima uit en de puzzels zijn mooi in thema. Helaas waren er wel wat dingen stuk. Ook was het ons niet altijd duidelijk wat we moesten doen en waren er ook erg veel spulletjes in de kamer die we niet nodig hadden. Dit maakte het wat chaotisch en daardoor liepen we af en toe vast.
Onze begeleider maakte echt de escaperoom, hij was erg komisch en bleef goed in zijn rol!
---
Ambiance: 7.5
Game experience: 7.0
Service: 8.0
---
Played in November 2021
Played with 3 persons
Escaped: Yes
---
Leuk thema
Goede begeleiding
Niet altijd duidelijk wat we moesten doen
Veel spullen die niet nodig zijn
---
Te veel spullen. Rommelig.
Leuk verhaal, niet echt leuke puzzels.
---
Ambiance: 6.0
Game experience: 6.0
Service: 8.0
---
Played in September 2021
Played with 6 persons
Escaped: Yes
---
Heeft onderhoud nodig
Onlogische puzzels
---
Leuke kamer
Leuke kamer, prima om met 2 personen te spelen. Wel veel werk, maar dat is juist leuk
---
Ambiance: 8.5
Game experience: 8.5
Service: 9.0
---
Played in August 2021
Played with 2 persons
Escaped: Yes
---
Goede service
Puzzels
Goede begeleiding
Verhaal
---
Mooie en leuke kamer
Je wordt aan het begin al heel leuk in het verhaal getrokken. De kamer ziet er geweldig uit. De puzzels zijn leuk en origineel. Soms was het voor ons niet helemaal duidelijk wat er voor een puzzel nodig was en doordat het vrij donker is in de kamer konden we ook niet alles zien. De kamer is spannend maar niet eng. Oja en mocht je net als wij heel bang aangelegd zijn; we kunnen je verzekeren dat je geen stroomschokken krijgt :-). Zeker leuk om te spelen!

---
Ambiance: 10.0
Game experience: 8.5
Service: 10.0
---
Played in July 2021
Played with 3 persons
Escaped: Yes
Leuke kamer
Prima kamer. Leuke effecten en een goede opbouw. Leuk om te spelen. Puzzels zitten goed in elkaar. Liggen wel veel spullen.
---
Ambiance: 8.5
Game experience: 8.0
Service: 8.5
---
Played in October 2020
Played with 2 persons
Escaped: Yes
---
Puzzels
Aankleding
Weinig cijfersloten
---
Write your review
Pro's and con's
Additional info
Score
Finishing