De Bokser
Lelystad , The Netherlands
Permanently closed
More about
De Bokser
"Ik heb de allerbesten nodig", viel commandant Fritsekind met de deur in huis, nu twee uur geleden. "Ik heb een doorbraak. Kom zo snel mogelijk naar Lelystad." Hij werkte al twee jaar non-stop aan de zaak "De Zwijger", zonder succes. Die grote, supergeheime zaak tegen de grootste crimineel van Nederland, zonder uitzicht op het kleinste succes.

Ik pakte de rugzak die altijd klaarstaat, stapte in mijn bescheiden Volkswagen Golf en trapte het gaspedaal fors in. Ik zette de ruitenwissers op de hoogste stand, maar liet de sirenes uit. De wegen vormden een peilloze zwarte diepte. In gedachten verzonken dacht ik terug aan mijn eerdere missies, allemaal succesvol. De enige auto die ik tegenkwam was een Toyota Prius, die met zo'n 155 kilometer per uur mij tegemoet kwam rijden.

Mijn telefoon piepte toen ik de afrit naar Lelystad nam. Fritsekind. Met een exacte locatie en een nieuwe naam: Henk de Vries, voormalig bokser van wereldformaat. Ik kende hem niet. Ik zou het straks wel horen.

Een straat eerder stapte ik uit, en liep zwijgend naar de onopvallende unit. Toen ik de deur opentrok staarden vijf paar intense ogen mij aan. Ik schudde iedereen zwijgend de hand. Fritsekind was de enige die stond, snelle halen van zijn filtersigaret nemend.

Toen begon hij te praten.

De sceptische blikken veranderden langzaam terwijl Fritsekinds verhaal vorderde. We hadden inderdaad een kans. Maar weinig tijd.

Iedereen had een rugzak bij zich. We kleedden ons om, snel, efficiënt. Klaar om te starten. Zwijgend stapten we de straat op.

"Vijf kwartier hebben jullie, maximaal", blèrde Fritsekind in onze oren, de hele weg naar het huis. Ik keek naar de mannen en vrouwen om mij heen, met recht een eliteteam. Ik knikte toen we voor de voordeur stonden. Het was begonnen. Er was nu geen weg meer terug.

Zouden we weer het onmogelijke klaarspelen?
---
Properties
Pregnant friendly
Contains elements unsuited for epilepsy.
NL, EN
Free parking
Escapetalk.nl statistics
Based on escapetalk.nl visitors
Calculate costs
No right may be derived from the prices mentioned on this website since they can be changed at any given moment.
6

reviews

The total score of a review doesn't have to be the average of your subscores. Sometimes a room feels like it should deserve a higher (or lower) rating than the exact sum of its parts.

Write a review
Simpel maar perfect!
Je komt binnen en denkt waar ben ik nu beland, maar echt een top escape room!
Het begint al voordat je binnen bent...
---
Ambiance: 7.5
Game experience: 8.5
Service: 10.0
---
Played in April 2019
Played with 6 persons
Escaped: Yes
---
Puzzels
Theetje vooraf
Je hebt elkaar echt nodig!
Aankleding kan nog leuker denk ik
---
Heerlijk "anders"!!!!!!
We hadden net in Zeewolde tot ons ongenoegen een kamer niet gehaald. Balend zochten we een andere kamer in de omgeving en kwamen last minute uit in Lelystad. Los van het feit dat ze het ons mogelijk maakten om nog te spelen, was de ontvangst al erg warm, hartelijk en met een origineel tintje omdat je al aan het werk wordt gezet, vóór de escape echt begint.

In de voorbereiding naar de escape ben je al warm. Zodra je begint, wordt er gebruik gemaakt van rollen. Niet iedereen zal daar van houden, maar daardoor wordt je in het verhaal getrokken, wat enkele fases heeft. Je wordt meteen op scherp gezet, als een agent die niet zozeer moet ontsnappen, maar een zaak moet oplossen.

Deze zaak los je op via puzzels, raadsels, rekenen, zoeken, etc. Eigenlijk alles wat je in verschillende escapes al hebt gezien, maar dan in een heerlijke mix van puzzelsoorten, moeilijkheid, maar wel continu binnen een bepaalde rode draad, zodat je je wel in een verhaal waant. Afhankelijk van of je de goede oplossing vindt, wordt het einde daarop aangepast, en is de ervaring ook echt af.

De her en der goedkope props nemen niet weg dat dit een bijzondere ervaring is, waarbij we goed in een verhaal zaten en bovenal echt plezier hebben gehad. Een betaalbare originele aanrader!!
---
Ambiance: 8.0
Game experience: 7.5
Service: 9.0
---
Played in February 2019
Played with 2 persons
Escaped: Yes
---
Gebalanceerd en doordacht, met veel variatie
Je waant je echt in een verhaal, als inspecteur
Hele prettige ontvangst door fijne mensen
---
Leuke ervaring!
Leuke kamer, zeker het begin, en de weg naar het huis, zeker wat uitdagende puzzels, en verschillende dingen te gelijkertijd te doen. De kamer is ruim opgezet, en had voor mij gevoel kleiner kunnen zijn.
De techniek vond ik niet echt hoogstaand. En te veel sloten. Het verhaal is wel mooi en we hebben de bonus ook nog gehaald.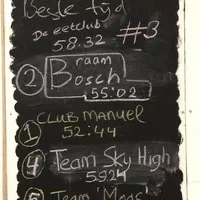 ---
Ambiance: 8.0
Game experience: 7.5
Service: 8.0
---
Played in February 2019
Played with 4 persons
Team: Sky High Team
Escaped: Yes 59:24 min
---
Het begin van de kamer
Verhaal
zaten paar leuke puzzels in
Eigenaren
Ontvangst ruimte
slotjes
weinig techniek, geluid licht, video
---
Leuk
Weer een nieuw bouwteam in de escape wereld. Leuke opzet met een goede verhaallijn. Zeker voor een eerste kamer goed opgezet. Simpel ingericht maar wel lekker veel puzzelen. Met 2 personen was het uitdagend maar wel te doen. Erg leuk dat je niet alleen moet ontsnappen maar ook een missie mee krijgt. We kijken uit naar de volgende kamer.
---
Ambiance: 7.0
Game experience: 7.5
Service: 8.0
---
Played in January 2019
Played with 2 persons
Team: VJ
Escaped: Yes
Erg leuk, zeker een aanrader!
Ik heb met een groep vrienden deze escaperoom gedaan, en het is zeker een aanrader. De puzzels/raadsels etc. zijn erg leuk om te doen en het verhaal is goed verwerkt in de kamer. Aan het begin wordt het verhaal goed uitgelegd, en dit verhaal blijft ook de hele tijd de rode draad door de escaperoom. Ik heb al meerdere escaperooms gedaan, maar vond dit echt de leukste escaperoom tot nu toe!
---
Ambiance: 10.0
Game experience: 10.0
Service: 10.0
---
Played in December 2018
Played with 6 persons
Escaped: Yes
---
Goed verhaal
Escaperoom zit erg goed in elkaar
---
Zit allemaal heel strak en gelikt in elkaar.
Na de zeer hartelijke ontvangst, kregen wij een zeer professionele breefing. Daarna met het spel begonnen. We zaten er direct helemaal in. Het zit allemaal heel knap in elkaar. Super spannend. We hebben er zeer van genoten. Echt een aanrader.
---
Ambiance: 10.0
Game experience: 10.0
Service: 10.0
---
Played in November 2018
Played with 6 persons
Escaped: No
Write your review
Pro's and con's
Additional info
Score
Finishing